Introducing the Walmart Fulfillment Service (WFS) Fee Calculator
It is common knowledge to everyone who already uses FBA (Fulfillment by Amazon) that Walmart decided they could and would compete in this arena, by launching WFS (Walmart Fulfillment Services). This service has quickly evolved into a credible second source of revenue for anyone currently utilizing FBA, as well as a much more attractive seller to buyer ratio.
Our company, Scepter Marketing, is a web design and marketing agency that started selling on Amazon 7 years ago. We very quickly realized that the key to being profitable was the ability to automate or minimize the time spent performing the back-end work (pricing research, fulfillment costs, optimizing listings), to make more time available for customer response, review harvesting and finding new product opportunities.
While there are countless tools to help maximize profits and price for sales velocity, we were shocked to realize that there is nothing similar for sellers on WFS… until now.
Welcome to the WFS Calculator
Similar to FBA, Walmart charges a percentage of the gross sales that proceeds from the sale of each product, ranging from 8% – 20% depending on the category. Each product is also assessed a fee for storage and shipping. Without a huge dedicated team, the work it takes just to calculate profitability on your inventory is immense, and destroys a large part of your productivity.
That is why we developed this new WFS Calculator!
Using our new WFS Calculator, you can instantly calculate all applicable fees for your products, in an easy-to-use interface, directly from the front end of Walmart.com.
Walmart Fulfillment Service Calculator Features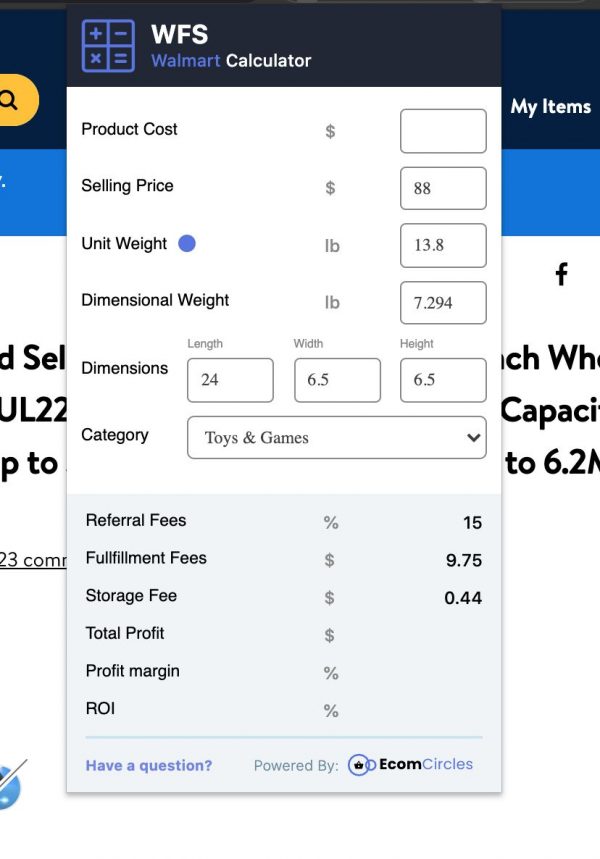 Referral Fee
The referral fee is Walmart's commission for each product. The calculator add all these three fees and give you the total fee that is going to be charged on each category as a fulfillment service.
WFS Fulfillment Fulfillment Fee
The fee that Walmart charges for fulfillment services for an order.
Storage Fees
The storage fee Walmart charges for a product to always keep in stock.
With the WFS calculator, sellers will estimate the fees and profit margins because each category has different percentages of the fees. The sellers can see exactly what the fees will be to decide if the cost is worth it. You wouldn't have to find space for all the inventory and forget worrying about keeping up with orders.
We have just launched the calculator and we would love your help testing it out!
Download the WFS Calculator here
This tool has just been launched and is therefore free and in beta.
Why Use WFS (Walmart Fulfillment Services)?
WFS is extremely competitive and similar to Amazon FBA, but there are some things you may find more attractive as a seller.
The seller-to-buyer ratio is much more advantageous to the seller
Free 2-day shipping to the continental U.S., but no subscription fee
4,700 Walmart stores and 20 fulfillment centers in U.S.; 11,766 globally
Can return items in any Walmart store or by mail
Fulfills orders only for Walmart.com
Other benefits of WFS:
Greater Buy Box share – Items fulfilled through WFS have a guaranteed 2-day delivery, and capture a significantly greater share of the Buy Box over all other offers, even those with non-WFS 2 day shipping. WFS products also show a tag with "fulfilled by Walmart", which instills more buying confidence in the shopper.
Explosive Growth – Selling on Amazon can make some small vendors feel invisible, as the larger sellers drown out the top product pages and capture the majority of the search visibility. Even with the recent growth of WFS, there are still opportunities for smaller sellers that price and list optimally to gather and grow an increasing share of the market.